Download a complete Product Catalog
(PDF format)


Member,
Re-Made in Massachusetts
The Re-Made in Massachusetts Alliance is a dynamic and growing network of recycled product manufacturers located in Massachusetts.
Early in 1992, in an effort to diversify and vertically integrate, Conigliaro Industries began manufacturing products made from many of the materials collected from customer locations.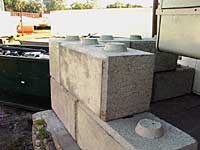 Plas-Crete Wall Blocks
The Economical Choice for Retaining Walls and Many Other Projects! Plas-Crete Blocks are perfect for contractors with skid-steers and mini-excavators. We've replaced the stone aggregate with recycled mixed plastic aggregate, so our blocks are half the weight. At 1,850 pounds each, our blocks are strong, heavy enough to push against, yet light enough to handle and quickly assemble. They are true-to-size, nestable, self- centering and self- leveling. Each 2' x 2' x 4' block placed yields 8 sf of retaining wall coverage. Blocks can be placed at a rate of 25/hour! They 're easy to use & look great!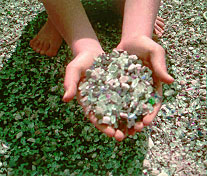 Tumbled Glass Aggregates
Great for all types of decorative, landscape & construction uses! Our Tumbled Glass Aggregates are the perfect alternative to boring old landscape mulch. Better yet, you can "tip toe through the tulips" landscaped with our Tumbled Glass Aggregates in your bare feet! We make two sizes of Tumbled Glass Aggregate - GlassSand [1/ 8" minus] and GlassGravel [3/ 4" minus.] They are also perfect for all types of construction projects, including road beds, retaining walls, drainage projects, pipeline flowable fill, etc. Imagine, colorful aggregates made completely from recycled glass bottles and plate glass. We have various sizes and color blends just for you. Our aggregates are tumbled to eliminate sharp edges and are free of metal and plastic rings. Barefoot Friendly!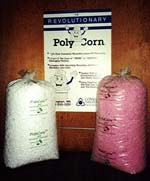 The first product, PolyCorn, is a packing "peanut" manufactured from 100% recycled, 92% post–consumer Polystyrene Foam, a #6 plastic. Since its debut, Conigliaro Industries has developed and now markets Pink PolyCorn, a packing peanut manufactured from 100% recycled Polyethylene Foam, a #4 plastic or Polypropylene Foam, and a #5 plastic.
Conigliaro Industries also repackages and resells once used packaging supplies, including bubble wrap and shipping cartons.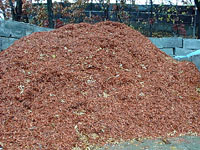 In addition, Conigliaro Industries has developed a strategic partnership with a wood recycler. This relationship allows Conigliaro Industries to offer our customers a close-the-loop clean wood recycling and 100% recycled landscape mulch purchase program.