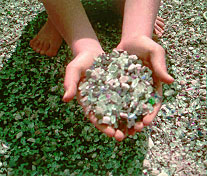 Conigliaro Industries is pleased to announce our newest recycled-content product line produced using our brand new Glass Plant! We are now manufacturing a range of wonderful "Tumbled Glass Aggregates."
Tumbled Glass Aggregates
Call it looking at the world through "rose colored glass"—our Tumbled Glass Aggregates are the perfect alternative to boring old landscape mulch. Better yet, you can "tip toe through the tulips" landscaped with our Tumbled Glass Aggregates in your bare feet!
We make two sizes of Tumbled Glass Aggregate:
GlassSand
[1/8" minus]
GlassGravel
[3/4" minus]
They are also perfect recycled-content aggregate alternatives for all types of construction projects, including roads, retaining walls, drainage projects, pipeline flowable fill, etc…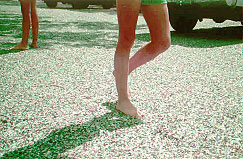 Imagine, colorful or pure clear glass aggregates made completely from recycled glass bottles and plate glass. We have various sizes and various color blends just for you. Don't worry, all of our aggregates are tumbled to eliminate sharp edges and are free of labels, metal rings and plastic rings—they are pure glass!
We offer our Tumbled Glass Aggregate in 5 gallon pails all the way up to dump truck quantities. Call our Product Sales Department for more information about our two Tumbled Glass Aggregates: GlassSand and GlassGravel!
For more information about our Tumbled Glass Aggregates, Pricing, and Best Practices in Landscaping and Construction Applications, please contact our Product Sales Department.