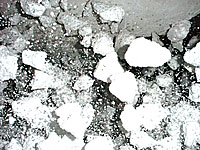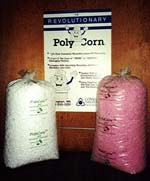 PolyCorn, is a packing "peanut" manufactured from 100% recycled, 92% post–consumer Polystyrene Foam, a #6 plastic. White PolyCorn is made from Polystyrene Foam Scrap and Pink PolyCorn is made from Polyethylene and Polypropylene Foam Scrap.


PolyCorn Packaging Peanuts
The Economical Choice for Loose-Fill Packaging "Peanuts"
The introduction of PolyCornTM is truly a breakthrough in void fill packaging. PolyCornTM is the first loose-fill product to be made completely from post-consumer and post-industrial foams. It measures up to, or surpasses, other loose-fill products currently on the market. PolyCornTM loose-fill is de-staticized and dust-free. Better yet, PolyCornTM is manufactured using a purely mechanical process, developed by Conigliaro Industries in Framingham, Massachusetts.
Every 15 cubic foot bag created keeps over 32 cubic feet of foams out of our already overtaxed landfills. High volume producers of foam scrap finally have an environmentally-friendly method of disposal.
Our post-consumer and post-industrial feedstock comes from municipal recycling drop-off centers, computer assembly plants, machine manufacturers, packaging manufacturers, and even local residents. Truckloads, which previously went directly to landfills or incinerators, are now being diverted to the Conigliaro plant.
PolyCornTM is also a better, more cost-effective alternative than other so-called natural media, such as corn starch peanuts, popcorn, and kraft paper. Unlike popcorn, for example, PolyCornTM does not break into little pieces, clog dispensers, or attract insects or rodents.
PolyCornTM loose-fill fits into your current packaging operations. It is easily blown through air conveying equipment and flows freely through your dispensers.
100% Recycled Loose-Fill Packaging With Over 90% Post-Consumer Content
Complies with Proposed Packaging Mandates and Laws
Treated with an Environmentally-Safe Anti-Static Solution
PolyCornTM is Less Expensive than Virgin or Corn Starch "Peanuts"
Using PolyCornTM Will Help You Improve the Environment and Your Bottom Line
For more information on PolyCornTM, or to receive a free quotation for foam recycling services, please contact our Product Sales Department.