25,000 Lbs/Day, 13 Million Lbs/Year of Recycled Computer Plastics For Paving Highways/Pothole Filler Give New Meaning to "Information Highway"
Excerpts from American Plastics Council,
"Power of Plastics" Online Newsletter
April 6, 1999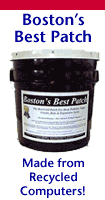 The American Plastics Council (APC) and the Massachusetts Department of Environmental Protection (DEP), among other leading business and industry interest groups, today demonstrated how plastics from discarded computer and other electronic housings - some 25,000 pounds of them every day and with a capacity of up to 13 million pounds per year - are finding new life, literally becoming the information highway of the future. The recycled plastics comprise the key ingredient in a new and proven filler for highway underlayerments and pothole filler mix. Recently an article in a leading recycling magazine (Resource Recycling, April, 1998 issue, article entitled "Computers and Electronics Recycling: Challenges and Opportunities" by J.D. Porter), noted that by the year 2005, it is estimated that 150 million computers will have been recycled. If 150 million computers were stacked on an acre of land, it would create a pile 4,000 feet high.
At a special event at a leading all-product recycling firm, Conigliaro Industries, Inc. of Framingham, children, reporters, industry leaders and politicians saw, in a demonstration project, how plastics can be recycled, and then "morphed" from a potential Y2K problem into a new information highway solution, providing a second life through recycling. Hosts and sponsors note that this demonstration has the potential to become a model for other regions in the United States.
"Today's children face far greater concerns with computers than just frustration with future Y2K bugs," notes Robert S. Krebs, Director of State and Local Communications of the American Plastics Council in Washington, DC. "They will need thoughtful, innovative solutions on-hand and ready to meet the challenge of an endless stream of outdated plastic computer and electronic equipment as well as ways to reuse the plastics material. With this demonstration, these concerns are being addressed together, with 'smashing' success." The industry spokesman concludes by noting, "Computers, printers, CRT consoles, copier housings, paper trays and scanners among dozens of other products can be turned from waste into a new, lightweight asphalt-type mixture."
During the event, dignitaries and other guests (including reporters) were introduced to the mammoth plastics recycling facility, and saw how large boxes of cleaned (i.e. electronics and metals removed) computer cabinets and other electronic product housings are received, then ground on special equipment funded by various organizations. The granulated plastics then become part of a special asphalt mix which is used for highways (as underlayerment) and in commercial pothole mixtures. Participants were even given the chance to vent their frustrations about the current Y2K stories by being allowed to "take a whack" at piles of computers with sledge hammers. The thought of potholes everyone has hit over the past winter surely crossed the minds of all attendees as well.
The APC, which was the primary sponsor of the event, is the Washington-based organization which produces and airs the popular and award-winning "Plastics Make It Possible"® television advertisements. Grants and other assistance from both the American Plastics Council and the Mass DEP played a large role in demonstrating yet another use for recycled plastics and went, in part, toward funding for the recycling equipment. A Massachusetts DEP Recycling Industries Reimbursement Credit grant and an U.S. EPA Jobs-Through-Recycling grant provide funding for suitable end-market development for the plastic computer and electronic housings and components.
The pothole/cold patch application for roadways was developed by Conigliaro Industries, Inc., headquartered in Framingham, a leading Massachusetts-based multi-product recycling firm with an aggressive, entrepreneurial approach to finding marketable recycling solutions. As noted earlier, the firm regrinds and reprocesses up to 25,000 pounds (12.5 tons) of computer and other electronic product plastic housings PER DAY. This is only what is being recycled by a single firm within the State of Massachusetts.
Conigliaro officials indicate that the products for recycling come from throughout the Northeast, noting that various state governments and firms like Hewlett-Packard and Pitney-Bowes are among the leading providers for the firm's recycling operations. They gratefully acknowledge that grants from the APC and DEP help make this demonstration possible, and point out that the lighter weight of this mixture can provide considerable fuel savings to State departments of transportation and consumers alike.
Also participating in the event was the National Plastics Center and Museum, headquartered in nearby Leominster, which provided a special hands-on program for the attending dignitaries and guests along with selected Framingham school area children, who were invited to attend. This world-acclaimed museum, the only one of its type in the world, sponsors ongoing outreach programs throughout the North American continent to children in schools from kindergarten through grade 12, with fun and educational presentations about plastics as a science, as a contributor to our lifestyles and as a major player in our economy, as well as processing and environmental issues. The Museum maintains a series of vehicles which traverse the continent (PlastiVans), to provide educational programs to students which supplement curriculums in educational systems. The Framingham students were the most recent benefactors.
For more information about this event, or about the sponsors of this event, including activities by the American Plastics Council, the National Plastics Center and Museum, Conigliaro Industries, Inc. and others involved, contact: Robert S. Krebs, Director of State and Local Communications, American Plastics Council, 1801 K Street NW, Suite 701-L, Washington, DC 20006. Tel: (202) 974-5373.
Also available for more information are the editorial consultants and facilitators for this event, Martin Thomas, Inc., c/o Martin K. Pottle, 334 County Road, Barrington, RI 02806. Tel: (401) 245-8500. Fax: (401) 245-1242.
###
"Plastics Make It Possible" is a registered trademark of the American Plastics Council.
SPECIAL NOTES TO EDITORS AND REPORTERS: Information snippets on the plastics industry include the fact that plastics in MA are responsible for more than 40,000 jobs in the state, contributing an annual payroll of $1.2 billion. The growing use of recycled plastics, like that demonstrated at this event, promises to give the material new life, and the economy additional job and income sources.
Latest reports indicate that the U.S. plastics industry is growing despite the Asian-related slowdown that is affecting the manufacturing sector, a significant factoid noting that most plastics are used in manufactured goods. Plastics overall has grown 2.3 percent per year since 1985, compared to overall manufacturing, which has shrunk by 0.2 percent per year. Of note also is that Massachusetts, and specifically Leominster, MA, is claimed to be the birthplace of plastics.